The Farm Shop
Here at Little Farthingloe farm shop our focus has always been to offer the consumer a complete range of fresh food from fruit and vegetables to meat and bread all under one roof. We combine the convenience of a supermarket with a more traditional, personal and relaxing way to shop.
Much of the produce including cabbages, cauliflowers, potatoes, apples and strawberries are sourced from local farms in Kent. They are freshly picked and collected direct from the farms to go straight onto our shelves. Other produce is supplied by growers in Covent Garden in London. The shop also sells a range of apple juice from Sussex, free range eggs, wholefoods, pickles and jams. We always have in stock sacks of potatoes which prove to be popular all year round.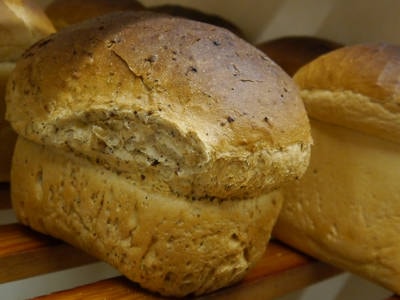 The Bakery
The bakers at Farthingloe bake through the night to create a range of breads, cakes and pastries to sell in the shop. Our meat pies have a great reputation for their quality. All of our bakery goods are baked from scratch and the cakes all home-made.
We sell a wide selection including caramel doughnuts, Belgian buns, bread pudding, gingerbread men and fresh cream cakes. Hot food such as Cornish pasties, cheese and bacon slices and sausage rolls are all made on the farm and available daily.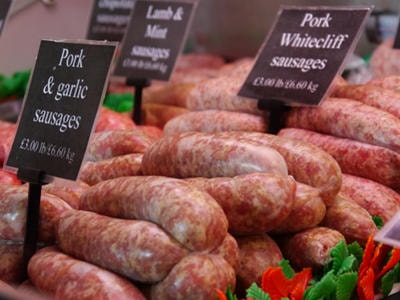 The Butchery
Our traditional butchers sells quality fresh meat delivered to the farm daily. All of the sausages and burgers are handmade on site and range from traditional pork and Cumberland sausage to a sweet chilli sausage for the more adventurous.
Joints of meat can be cut to size on request or a range of pre-packs are available. Meat hampers can be made to order and are great value for money.
The Cider Shop
We offer a range of Kent ciders in barrels ready to be tasted before purchasing in the quantity you require. Our ciders include the highly accoladed Biddenden range and the exciting award winning Henderson's ciders from the Kent Cider Company using apples from orchards near Faversham.
You can expect traditional dry, medium and sweet ciders alongside contemporary flavours such as toffee apple cider and rhubarb cider. All worth a taste! We stock a range of bottled ciders which make great gifts too. We also stock the award winning hand crafted beers from local artisan brewer Ripple Steam Brewery.
Gifts
In our Café we have a great selection of children's farm related gifts including stationery, books, puzzles and toys.